At BRP, our passion extends beyond our business. Through our actions, we are committed to making a positive and sustainable impact in our employees, dealers, distributors and customers' lives wherever they work, give and play.

We are constantly looking to involve our vast network with the goal of truly moving the needle on social issues that touch our people in their everyday lives.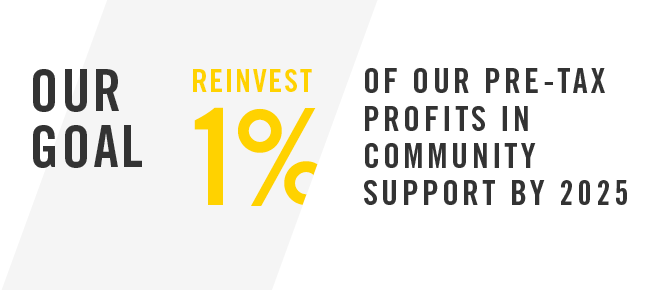 As part of our CSR25 program, we are reiterating our commitment to invest 1% of our pre-tax profits in community support by 2025. This will enable us to accelerate our impact on communities.
To know more about our program, visit our Community Engagement page.
RESPONSIBLE RIDER
As part of CSR25, we are committed to increasing our efforts to empower all riders of the powersports community to ride responsibly through our new BRP Responsible Rider program. It aims to encourage riders to focus further on safety, riding etiquette and the environment.








WOMEN OF ON-ROAD
Only 20% of all riders on the road are women. Our Can-Am On-Road brand is on a mission to change that and democratize the open road with the Women of On-Road program

This program is designed to help overcome the barriers that prevent women from experiencing the power of riding through inclusivity and education. To date, more than 12 500 people have joined the Women of On-Road community.

To know more about this program, visit the Can-Am website.
DEALER DEVELOPMENT TRAINING TEAM DONATED EQUIPMENT TO A VOCATIONAL CENTER
To help keep our vehicles safe and on the road, we need trained technicians who have the up-to-date skills and knowledge.
That's why in 2020, Training Team donates vehicles and equipment to vocational centres so that students can keep informed about the latest Powersports innovations.
SUPPORTING SHELTERS FOR SNOWMOBILE RIDERS
In 2020, our Ski-Doo brand gave back to communities through the Ski-Doo Grassroots Club Assistance program, which was created with the Canadian Council of Snowmobile Organizations (CCSO). To date, Ski-Doo has donated more than $100,000 CAD to help ensure that snowmobilers have a safe place to stop and rest along the trails.